Daily Inspiration
We are all given free will. What does this mean? It does not mean that we can control others and the outcome of things. It means that we are free to choose our intention each moment. It means that if we choose the intention to avoid/control, we freely choose to behave in unloving ways to ourselves and others. It means if we choose the intention to learn about love, even in the face of fear, we freely choose to be loving to ourselves and others. Free will gives us the ability to choose our intention.
By

Dr. Margaret Paul

"This site is so wonderful, it is the best site on the internet and so full of love, acceptance, compassion, and non-judgment!!!"
Anonymous Member
"I agree with you 100%. This IS the best site on the internet! .. and I love the way old articles and threads come around again and again when they need to ..."
Anonymous Member
I know I didn't come here by accident. My Guidance sent me here, that's for sure and I too have changed because of IB. I learn something new every day I come here and I love the Daily Inspirations. I have come to know some of the most enlightened people from IB and from here I can feel real unconditional love, support with nothing expected from me in return
Anonymous Member
Never stop coming here until you feel joy and peace every moment of your life.
Anonymous Member


Finding IB and the community of support here has launched me on a healing path like no other. I have never been with so many people who can share in such a wise, uplifting and nonjudgmental way. The learning and role modeling I receive from you all has changed the way I see things and the tone in which I communicate, and so much shame is dropping away from my life as a result. I feel like I have found an oasis in the desert in which I was lost and wandering for so long! Thank you all so much!
Anonymous Member


This has been an ongoing learning process for me and I am so thankful for IB. I have gone to counseling for many years and this is the first time I have seen results and been able to understand what happened in my life.
Anonymous Member


Support, Connection, Caring, Compassion & Community!
Please Note: This registration is for the Inner Bonding Village. If you are looking for the Free 7 Day Course, please click here.
IBVillage Registration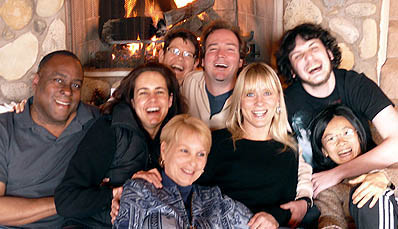 Self-healing and moving beyond your blocks is life work for most of us. There are no short cuts or "instant answers" to the deepest questions in your heart. Healing from your childhood wounds, addictions, bad relationships and searching for spiritual connection is some of the most important work you will ever do.
Our experience has been that people do this kind of work in fits and starts. Yes, you're always on your journey, but there are moments in your life where healing is needed. Maybe you just experienced a breakup. Or you lost someone you love. Perhaps you had a dream that failed to come true or you feel called to dig in and forgive someone for hurting you. Maybe loneliness feels overwhelming for you, or you feel alone and unmotivated.
Whatever led you to this website, we're here to tell you that you don't have to do it alone. Support to help you on your healing journey is what we offer to members of the Inner Bonding Village. You can connect with others who are also learning, healing and growing, and receive the help you need.
We are a community of strong, vulnerable, kind, honest people working on creating a healthy life, just like you. Here's a few things people have to say…
"The two of you and the Inner Bonding Community are blessings in my life. Every day I am able to access my computer, I go to the site to read your Daily Inspiration, Erika's blog, questions and answers, latest articles, and discussions. I always listen to the podcasts and teleseminars when they are added. I learn so much and often ask myself, 'What would Margaret or Erika do or suggest I do in this situation?' Inner Bonding has given me an anchor and calmness in the sea of life." –D. P.
"I can't even begin to say how much I have been helped here at IBVillage! The love and caring is amazing. You are always here for us and the love, appreciation and gratitude that is felt by me is huge!" –-E. S.
"I knew what I felt and wanted to explore more, but didn't have a place to practice what my heart wanted or a supportive community to go to, or a place to learn or the knowledge that I was longing to fully love and uncover me...Lost myself again and thankfully, happened upon IBVillage! I am so grateful for this amazingly kind community, and the wisdom that is so generously shared. I found the practice that works...Your words have given me divine Guidance. So thankful for the understanding that I everyday!!" --W.F.

"Years of talk therapy have not even come close to what I've accomplished with IB and the support of IBVillage." A.K.
Below are the different membership levels and we encourage you to consider joining us:
Bronze - $9.95/month
This is a read-and-participate membership. All of the member articles (not available to the public) are yours, as well as forums, Q&A posts and answers, and much more. You can share and ask questions on all articles, Q&As and other posts, and receive support and caring. You also have access to all Member's ONLY videos, the Inner Bonding 6-Step Visualization to take you through your own IB process, and "My Inner Bonding Process," which deepens your experience of the Inner Bonding experience as a whole.

We also invite you to join hosted chats and webinars. While in this membership you cannot ask questions, you can read and interact with all existing posts and respond to them with your own questions. If this membership fits your need to grow, join as Bronze Member below.

Silver - $19.95/month

Our Silver Membership builds on everything listed in the Bronze Membership + PLUS professional help: you can ask Dr. Margaret questions and receive in-depth professional advice, generally the same day.

Gold - $29.95/month

Our Gold Membership includes everything in Bronze and silver PLUS a free session with Dr. Margaret at the end of one year of membership ($200 value).



Platinum - $49.95/month
For someone ready to do serious work, this is the ultimate membership for you. You receive the benefits from the 3 other levels PLUS the monthly "Ask Dr. Margaret Interview"(a $39.95 value each month).
Additionally, you receive 20% off supplemental books, CDs, DVDs and more in our store.

A few extra details: If you choose our 1st month for $4.95 option, after your first month at $4.95, regular charges for each level will be automatically charged to your account unless you cancel your subscription, which you can do at any time.
Not sure? Remember we have a money-back guarantee!
Try our membership for three months. If, after consistently using the features of this website the features of this website - reading the articles, participating in the Forums, responding to posts, asking your own questions in the Silver, Gold and Platinum level, and practicing Inner Bonding - you feel that your life has not been improved, we will refund your money.

 Of course, you can cancel your membership at any time with just a click. So you have nothing to lose and everything to gain!
Privacy
Your privacy is especially important to us. We never share your email address or personal information with anybody. Your information is encrypted in transmission. All customer payment information is stored encrypted on our servers. For more information, please click here to review our privacy policies.
Are you ready to join? Begin here: